It's been well over a month without a blog post but it doesn't mean we're not keeping busy at Nanaya.
Personally, because this is a fun side project, occasionally other things take priority like my astrophysics research for my PhD and designing space missions for NASA JPL. But don't worry, we're on schedule with releasing an early version of Nanaya around Late Summer 2015.
Who and What Will Nanaya Support?
Nanaya will be a browser based webapp, it will not be a standalone app.

It will be a lot better on mobile than the current site!

We will be forecasting the odds in time of finding love and best/worst groups for finding love. We won't be doing the "cost benefit" of relationships immediately. We need a lot more data before we can be confident transitioning from our self-report based prototype to a big data driven app.
Nanaya will be free. The algorithm generates a wealth of interesting data and the most interesting parts will always be free. However, we may ask for you to complete an additional survey or for a donation to receive some of the finer details. We'll post some details on this closer to launch.
We have enough data to cover, at national level, nations mentioned in our Which Nation Is the Best Lover blog post and Italy. For Late Summer 2015, we cannot commit to supporting other nations but we will try our best based on data availability. We will prioritize nations most represented in our dataset.
We're baselining support for USA across several regions, e.g. Northeast, Midwest, South, and West. We'll be defining these based on what our data studies and existing literature in geography and psychology. We will need more people taking the personality test before we can enable which cities are ideal for finding a partner. We will enumerate that in the Fall. Invite your friends to take it!
What Will Nanaya Look Like?
Transitioning from an open-ended prototype to a webapp means compressing an hour interview to a 10-15 minute adaptive questionnaire. This results in the hard problem of asking just the right amount of questions: too little and the results are meaningless while too many and no one would complete it.
Right now, we're just about done designing the questions. So if you're a college student, you'll be seeing questions about your college life and post-college plans. If you're a service worker, you'll be seeing questions about how you interact with customers. Americans of minority status may see questions with how they interact with groups of their ethnicity as it may be disproportionate with demographics local to the user. The point of all of that is understanding how and where you would meet a match. If we don't ask these questions, we can't give a good prediction!
We've also put together a few wireframes as we start building the webapp that give an idea of how things will look like. These questions and the user experience aren't in their final form but these two wireframes may give you an idea of what's to come: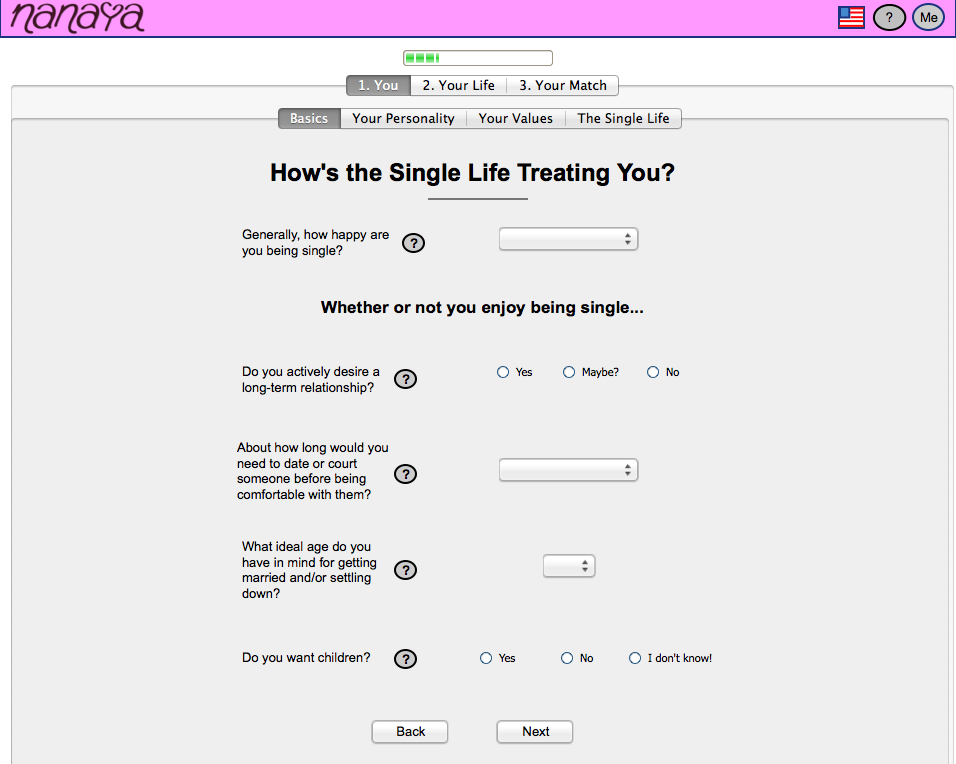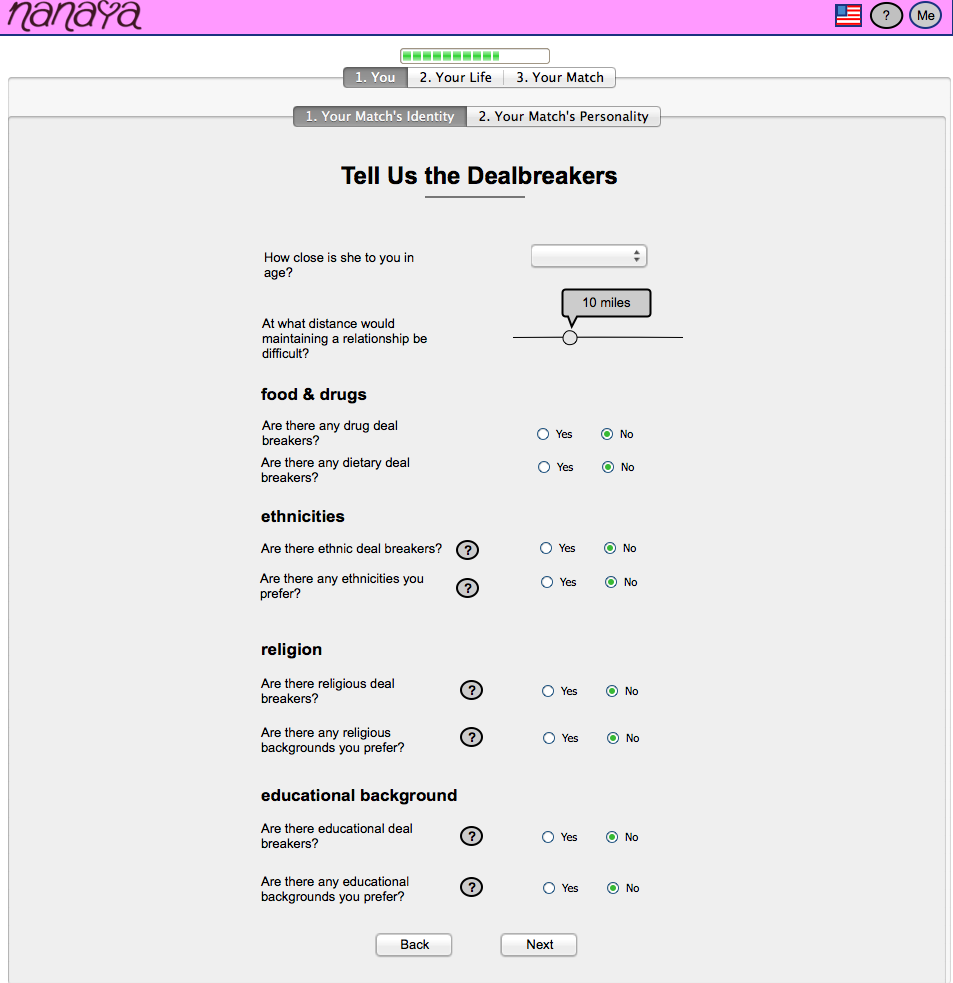 Those question marks will be tooltips that give you a bit of extra info on how we're using that data or why we're asking that question.
Finally, the experience will be anonymous.
Minor Nerdy Details
For those interested, we're currently using a postgresql database. Backend calculations will be done with various python libraries. Check back in around release and we'll give shout outs to people who've put up great libraries on Github.
Update August 2015!! Because of my research schedule, launch has been pushed back to mid-late November. This time we mean it!