Vamos a ir directamente al grano.
Most Romantic Nations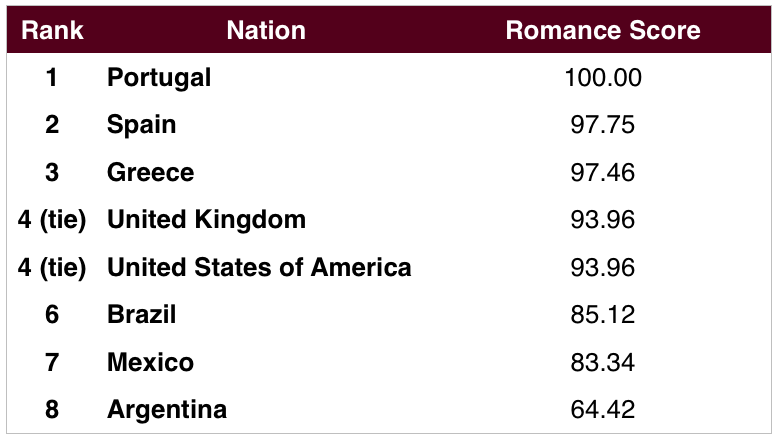 ¿Puntuación más alta, mejores amantes?
Ok, así que es muy difícil salir con todo un país, pero podemos describir la población de un país. Entonces, ¿cómo podemos decir en qué país es "el mejor amante" o simplemente "más romántico?"
Llevamos a nuestra base de datos de personalidades mundiales, escogimos los países con la mayor cantidad de datos y rasgos ponderados que impactan el romance para llegar a diferentes puntuaciones de romance.
Se nos ocurrió con tres tipos de puntuaciones románticas y descubrimos:
Países mediterráneos tienen las poblaciones más románticos y los países de América Latin tienen la menos. Naciones de habla inglesa están en el medio
El amor puede ser un lenguaje universal, pero el idioma nacional es menos importante que la proximidad geográfica y la cultura compartida.
Los países más románticos tenían más divorcios para cada matrimonio.
Los países más románticos tenían niveles del desempleo más altos. Pero Nanaya necesita más datos para confirmar esta relación.
---
¿Cómo lo hicimos esto?
Nanaya será un servicio que puede pronosticar su amor y vida social – pero corriendo el Nanaya algoritmo necesita una gran base de datos de personalidades. Desde mediados de enero, tiene Nanaya pruebas de personalidad alojados para construir esa base de datos. A diferencia de muchas pruebas de personalidad en línea, esta prueba fue construido sobre los cimientos de la psicología científica, produciendo resultados repetibles.
En las últimas semanas, hemos tenido más de 15.000 usuarios en todo el mundo toman la prueba principal de la personalidad. Si usted no ha tomado, hágalo aquí .
Podemos tomar los resultados de las pruebas de personalidad numéricos para determinar qué hace que un buen amante, ya sea para una aventura caliente o un largo plazo, relación estable:
Puntuación de Fling Caliente. Flings calientes son todos acerca de la aventura y la exploración, del mundo y de sí. A parte de esto es ser social y carismático. Sin estos rasgos, nadie da el primer paso. Consideración es importante, de esa manera usted puede leer las emociones de los demás y actuar en consecuencia, pero arrastra a los demás en valor.
Puntuación de Relación Estable. Relaciones estables son un asunto diferente. Cosas como la fiabilidad y seriedad comienzan a ser más importante para hacer una relación pasada. Para ser claros, esto es más de un término descriptivo que algo que se ha correlacionado.
Puntuación de Romance Neto. La relación correcta es una mezcla de una aventura caliente y relación estable. He añadido y normalizado los puntajes para llegar a la clasificación en la parte superior.
Sin duda, lo que lo convierte en una aventura caliente y una relación estable se relacionan – pero no son exactamente los mismos. Diseñé las puntuaciones de "aventura caliente" y "relación estable" pesando los diferentes rasgos de personalidad diferentemente. A continuación, calculamos estas partituras para las distribuciones de personalidades en los países en que tuvimos la mayor cantidad de datos. Hay muchos más países en nuestra base de datos que los de este estudio, pero no hay suficiente para resultados "significativos".
---
Mejores Naciones para Romance
A continuación se muestra un gráfico de burbujas que muestra las puntuaciones de Fling Caliente y de Relación Estable para estos países.
Romance Scores Grouped by Language Spoken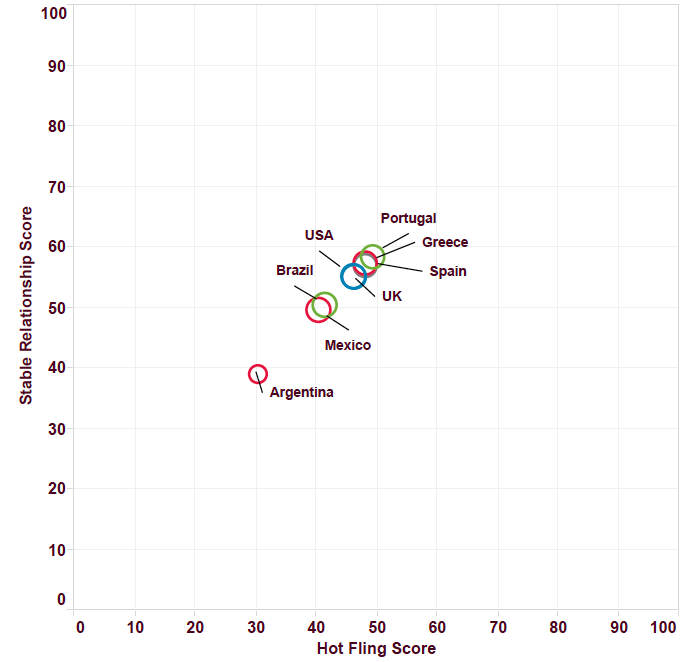 Esperamos que estos resultados sean algo relacionado. El hecho de que están en una línea significa que están altamente correlacionados y tiene perfecto sentido en función de cómo diseñamos las puntuaciones. Dicho esto, no son exactamente iguales. Las diferencias surgen si las clasificamos separadamente.
Ranking of Hot Fling & Stable Relationship Scores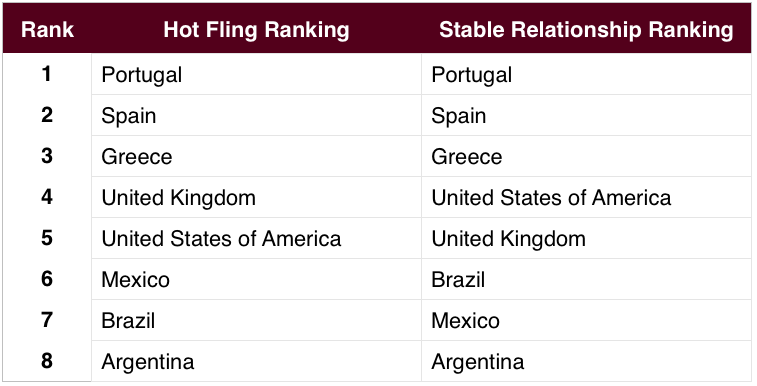 Lo sentimos reportar, Argentina. Si ayuda, esto es sólo un número y el amor no es un número.
Sin embargo, nuestra primera suposición de que el lenguaje era un rasgo cultural unificador estaba equivocado. Vamos a tratar de una manera diferente de agrupación. Tenga en cuenta, los resultados no cambian!
Romance Scores by Cultural Grouping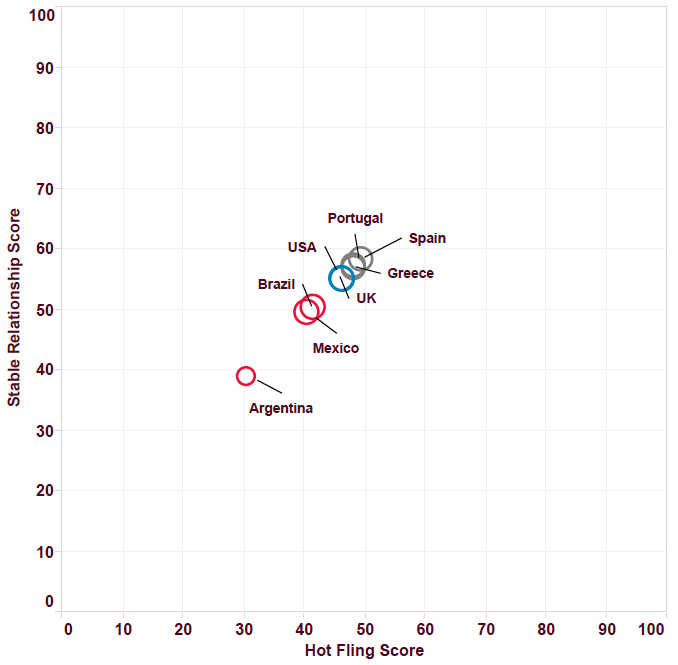 Estas metodologías de agrupación nos dan tanto una distribución más sensata, más apretada.
Ahora hay algo único acerca de los países mediterráneos que conduce a mejores amantes? Grecia no es un país católico, mientras que España y Portugal si son predominantemente. Una característica unificadora es que todos tienen un desempleo relativamente alto.
Bueno, hay un pensamiento, ¿quizas el desempleo y la puntuación romántica tienen una relación? Sólo tendremos que recoger la Puntuación de Hot Fling Puntuación ya que hay una correlación fundamental entre las puntuaciones de Relación Estable y de Romance Neto.
Hot Fling Score and Unemployment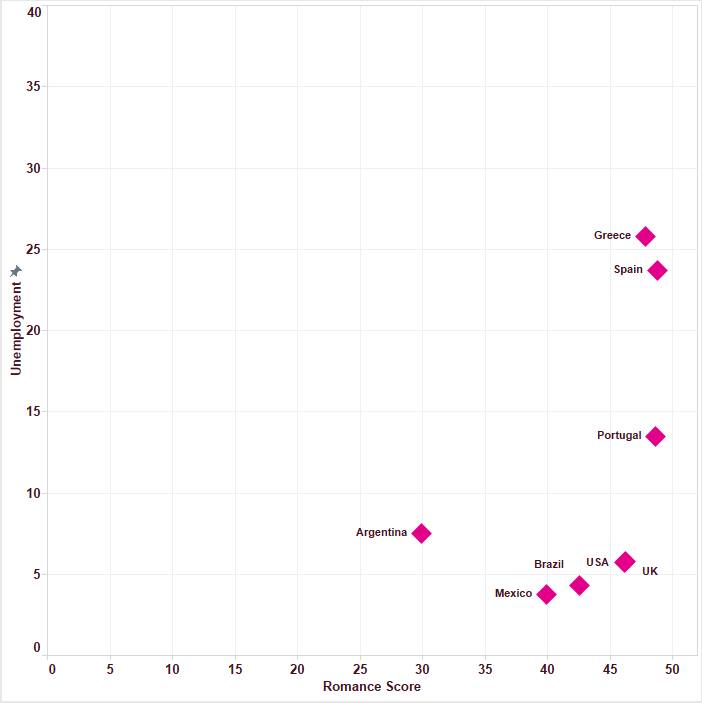 ¡Caramba! Así que cuanto más amorosa y apasionada una nación, ¿menos probable es que va a estar en el trabajo o que las instituciones nacionales sean estables? Hay un montón de historia, los acontecimientos recientes, y otras métricas que requieren profundidad para probar esto. Soy escéptico, pero es interesante.
Bueno, si hay una correlación, ¡no es una lineal! Tal vez vamos a volver a esta correlación cuando tenemos más datos. Para los curiosos, sacamos nuestros datos de desempleo basado en los valores de enero 2015 aquí .
---
¿Qué hay de Género?
Así que para un país y rasgo dado, qué parecen ser las diferencias entre hombres y mujeres?
Por lo general, los hombres y las mujeres tendrán distribuciones muy similares para un rasgo dado en un país específico. Consideramos que la "seriedad" de los griegos de abajo.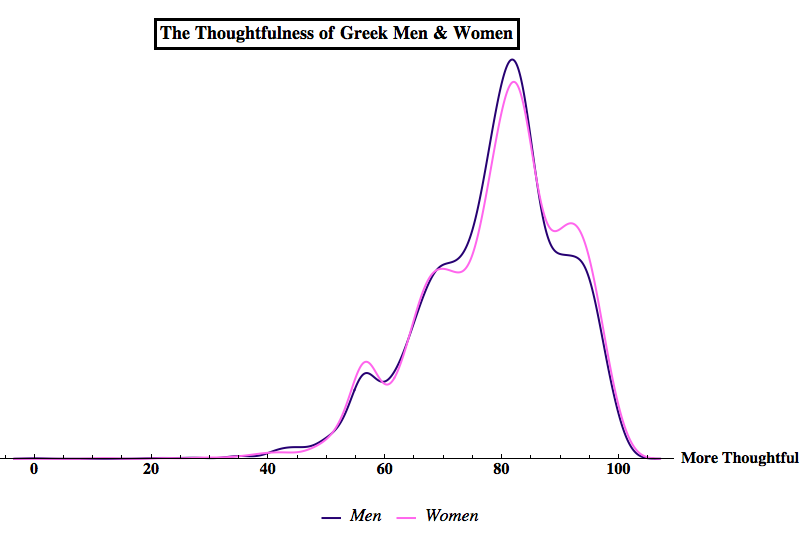 Pero esto puede ser contrastada por unos pocos casos que sesgan los resultados entre hombres y mujeres, como en las dos puntuaciones de romance diferentes. Aquí, nos fijamos en el carisma de los brasileños.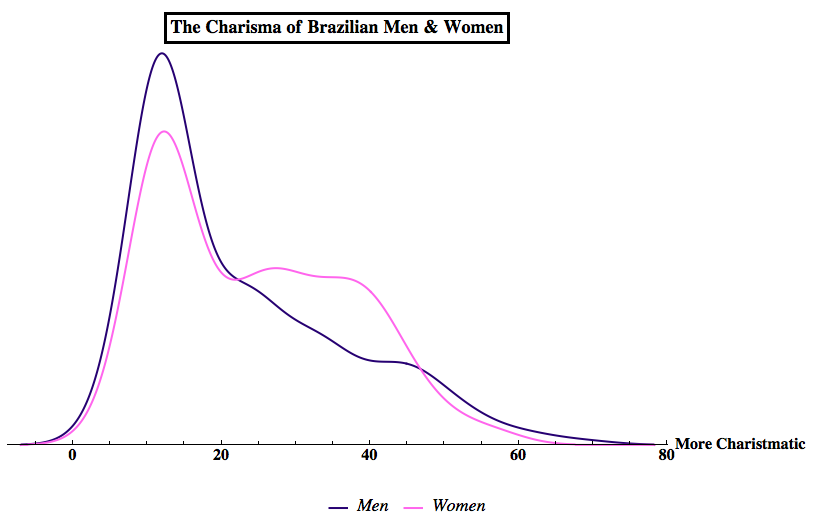 Esto es sólo una breve descripción de la diferencia que hace el género. ¡Estén atentos al blog Nanaya para futuros puestos en discusiones sobre el impacto y el papel del género en la psicología y la sociología!
---
Puntuación romántico y éxito romántico
Ahora todo esto es para el entretenimiento, si no vemos una correlación real entre la puntuación romántico y la realidad. Pero, ¿que es una buena revisión de la realidad?
Necesitamos un indicador disponible públicamente que nos dice que las personas están entrando en relaciones a largo plazo, mientras seguiendo la frecuencia en cual la gente están dejando sus relaciones. Mi conjetura es que los países más románticos, más van a ser capaces de mantener relaciones con un menor número de divorcios por cada matrimonio. Bien, hay un nombre para ese indicador: proporción de la tasa de divorcios en contraste a la nupcialidad (datos desde aquí ). Desafortunadamente, no hay tasa de divorcios a disposición del público de Argentina, pero por lo demás tenemos el siguiente.
Hot Fling Score Vs Divorce-to-Marriage Rate Ratio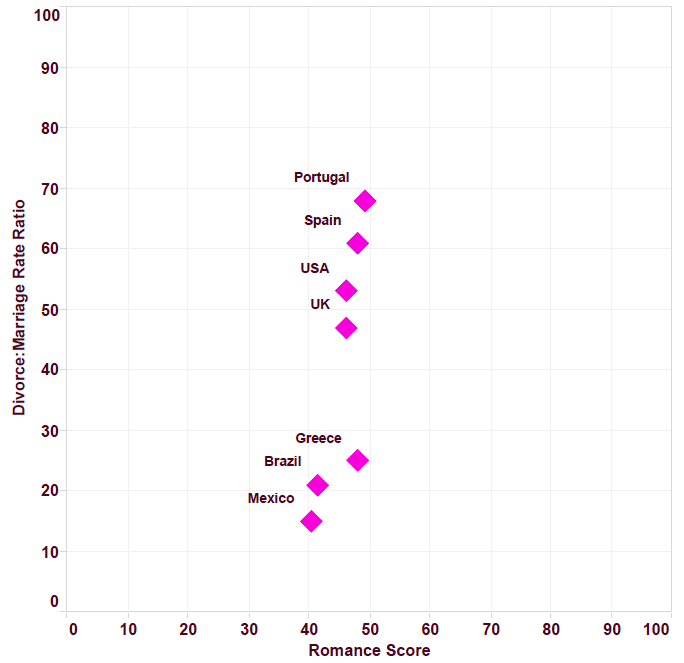 Hmm… Aquí, Grecia es un caso atípico. ¿Por qué? Podría haber muchas razones, tal vez para ser cubierto en otra entrada del blog en el futuro. Dicho esto, mirando a nuestro valor de P-test que hacemos vemos algunos de correlaciónes lineales. Si tuviéramos una buena razón para tomar Grecia fuera de la imagen, al igual que algún rasgo cultural único invisible en este nivel de datos (por ejemplo, Cristiandad Ortodoxa), tendríamos lo siguiente:
Hot Fling Score Vs Divorce-to-Marriage Rates Ratio (no Greece)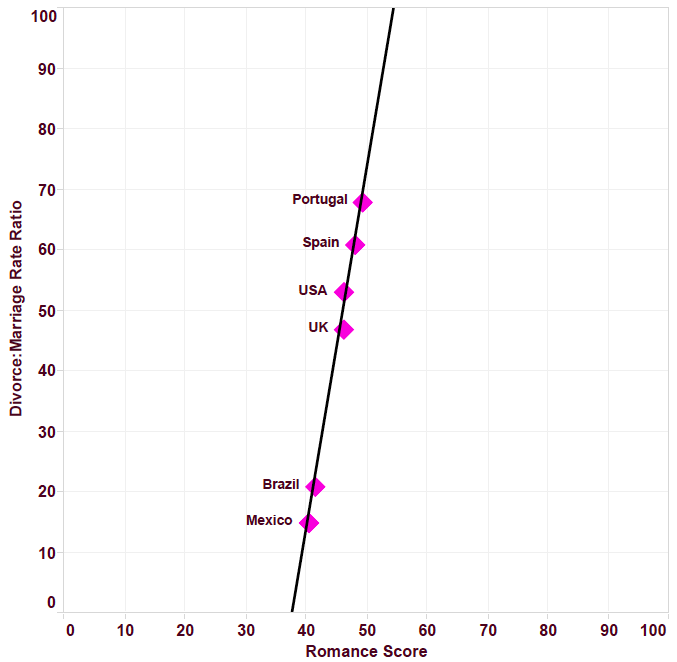 Así que resulta que mi suposición era errónea – completamente equivocado, pero de la mejor manera posible. Más datos nacionales sería genial, pero simplemente no tenía idea de que no habría esta fuerte   de una correlación lineal.
Incluso con Grecia, mientras que la puntuación de romanace es un predictor de éxito a largo plazo, la más romántica de la nación los más divorcios habrá. Más intercambios de romance y más intercambios emocionales pueden permitir más espacio para el crecimiento de nuevas oportunidades románticas dentro de las grietas de las relaciónes anteriores. ¡Esto se aplica incluso en países católicos!
Sólo tenemos unos pocos países de tamaño estadísticamente significativa, pero espero que podamos hacer de nuevo este estudio después de ver cómo este indicador puede cambiar. Incluso con Grecia, nuestro valor de P-Test todavía indica correlación.
---
 Odds & Ends
Hay un sesgo de la muestra que pasa a través de todos los países en que es bastante uniforme: eran lo suficientemente interesado como para tomar una prueba de personalidad en Nanaya. Esta gente es un poco más joven y más urbano que toda la población nacional. Tal vez un post más adelante se discutirá cómo podemos controlar estadísticamente estudios Nanaya.
¿No te gusta lo que ves? ¿Quieres ver incluido su país?   Tome la prueba de personalidad y hacer grandes datos. Cuantas más personas toman la prueba de personalidad, la Nanaya pronto estará disponible.
Si desea presentar un reclamo, envíe invectivas y maldiciones a info@nanaya.co, todavía te queremos.
A través del poder de la Internet, esa misma dirección de correo electrónico también trabaja para la retroalimentación positiva y preguntas.
Las puntuaciones de Fling Caliente, Relación Estable, y Romance Neto son indicadores sintéticos y no son parte de un algoritmo Nanaya.
Los datos se extrae de la base de datos Nanaya como de 31 de enero 2015 en alrededor de 15.200 usuarios. Ha crecido un poco desde ese punto.
Los gráficos de burbujas generosamente se trazaron por Jackie Wisniewski. Traducción proporcionada por Desiree Esther Gerringer-Salazar. Histogramas y análisis se realizaron en Mathematica.